I recently stumbled upon another blog,
The spotted sparrow
, and read a post on
DaWanda
!
DaWanda
is the
etsy
of the UK, France and Germany!
DaWanda
is the place for unique and individual products and people. Buy handmade and hard to find goods, share your discoveries with your friends and create your own collections. I purchased their equivalent of "
The spotted box
" which was the
DaWanda

World 2009
. Each bag contains business cards and 5 to 6 promotional give aways from selected sellers who are working together to spread the joy of
DaWanda
shopping. These bags are identical with entries from 106 wonderful
DaWanda
Sellers and freebies include cool magnets, badges,
key rings
, sachets, buttons, earrings, rings, bookmarks, postcards, creations made of felt, etc.! All
these
things are handmade and they all are limited edition.
For 10.00EUR here is my promo bag!!

the cute
France
stamps:
it came in this beautiful silk reusable gift bag:
all of the business cards and the promotional calender:
My samples: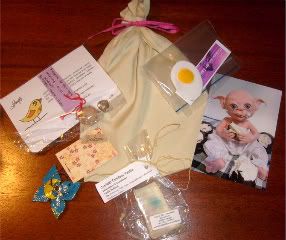 and one that my
DS
swiped before i took the last pick...
lol
!

Included:
1. A zipper
pul
or bag charm from
Florcita
4. A fairy/sun*moon*stars key chain from
livalasiu
(i think that is what it says)
I have already bought some jewelry from one of the shops for a friend for her birthday. Who wouldn't want to get handmade jewelry from
France
??