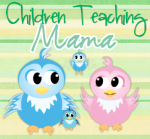 Roxanne over at Children Teaching Mama, is hosting a review and giveaway from my boutique as part of her "A Merry Fluffy Christmas" event!!
Visit for your chance to win a $15 Gift certificate to my boutique!
Click here to enter!
*****************
be sure to enter my other giveaways
here
and
here
too!