I have been participating in "The Spotted Box" for several months now and have really come to enjoy the 15
th
every month! Aside from my wonderful hubby getting paid (he is a teacher), I get my
SPOTTED BOX!!
This month was one of my favorites! Everything I could use or thing of someone that could. I even did a bit of shopping from my samples!
ABOUT THE BOX:
The Spotted Box is a box of family-oriented, eco-friendly samples from independent crafters, all packaged together and sent directly to you! Designed with the young family in mind, these handmade samples are focused on children and their mothers. The Spotted Box can include samples like: Bath and body, doublers, candles, bookmarks, candy, stationery, bibs, wool food, toys, paper arts, wipes, wool wash, tarts, mama pads, dish clothes, teas, food, dog treats, gift certificates, magnets, pens, hair products, jewelry and more! Each month it changes depending on the participants.

MY BOX'S CONTENTS: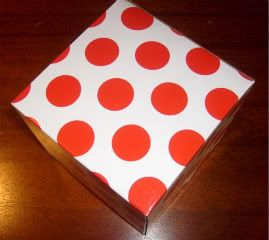 1. Yummy cookie that i cheated on my diet with right after opening my box (... and it was worth it) from
Zoe's Cookie Traditions
as well as a $5 coupon code (woo
hoo
or oh, no.. which is it?)
2. Cute valentine's (or year round in my house) magnet from
Flirt Buttons
. I have just embraced that i am slowing
acquiring
a "mommy fridge" ...magnet covered and all. :-D
3. I
LOVE
the
swarovski
crystal earrings from
Let it Shine
. So much so that i already have this EXACT same pair that i got for Christmas from my MIL. I get so many compliments on them when i wear them that i know who ever i gift them too will love them too!
4. Binky/Whatnot bag compliments of
Mystical Baby
. Well
DS
is over his pacifier, but i am sure i can find a use for it! Also a 30% off code!!
5. A button from Debbie at
Buttered Parsnips
. This isn't my style, but I have a friend that i think will enjoy it. I love
Debbie's
etsy
though- cute stuff!
6. Another ADORABLE set of earrings from
lili
lutu
. These are perfect for day wear and i love the color! Also included a 10% off code!
7. Crocheted
key chain
from
Little Peanut Nursery
that stocks at
Serenity Tree Congo
. I am not a
key chain
girl so i took it off the key chain and now
DS
uses it as a hot pad for his kitchen!
8. When i heard that
fishnoodles
put in a few shirts for a select number of boxes, i crossed my fingers and hoped i would be a lucky box to snag one. That cute shirt was the first thing i noticed when i opened my box. Even more my luck, it was a boy's size 2!! PERFECTION!
9. Scrunchy from
I *heart* bowheads
that is too big for the baby girl's in my circle, and too young for me. I will probably send this out with my next order and let it bless a cute girl with hair *giggle*
10. The most amazing sample *ahem* from
2by2boutique!
A soft cloth facial wipe/family cloth sample in home friendly fabric! Soft and affordable!! *ahem* ;D
11. The sweetest bib from
babyGO
! I can't decide to gift this at the baby shower i am going to this weekend or keep it for baby #2? I love it! She also gave a 10% off code!
12. Love clip that i cannot get enough of. I just have to say that
The Little LOVE bug
is one of my favorite shops!
DS
got a ton of her felt food for Christmas and i am amazed at the quality. This clip is going in a cute valentine's care package to my little 9mo old
niece
! She also included a free shipping code that i will use this weekend when i have some time to shop!
13. A cute wipe from
Princess Julianne's Closet
that i am also sending in the care package! I also already used my 15% off code and got a couple of hot/cold packs that i already love!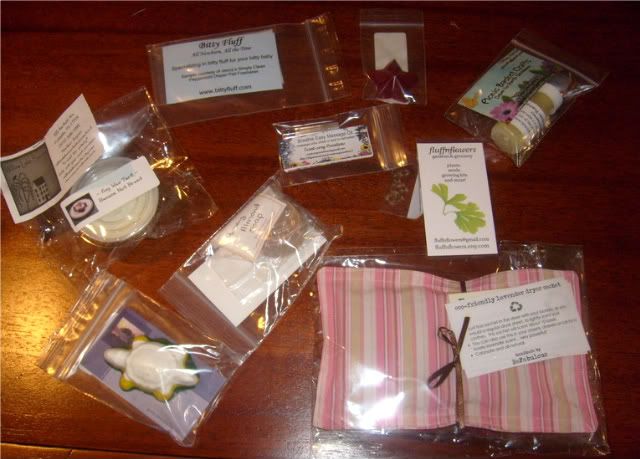 14. Soy wax tart in banana nut bread that smells yummy and i cannot wait to use! **I have no idea where this is from as there is no card or
label
. If you know, leave me the info in the comments! thanks!**
15. Pail freshener from Jenny's Simply Clean at
bitty fluff

congo
that could probably have been
quadruple
bagged and still smelled through! I LOVE it! The peppermint scent is perfect and if it has already scented my whole house from being on the counter, I bet it works wonders in the
ol
'
wet bag
! Jenny i am hooked on you!
16. A ninja star crayon from
INKYANDIE
.
DS
loves these!
17. All natural all purpose cleaner concentrate from
Picnic basket crafts
. I love it! We have recently switched to all natural everything for our home and i love the cleaner. She also included a 15% off code that i have already taken advantage of! She is even making me a special batch of strawberry-lime lip balm! YUM!
18. Breath easy massage oil from
Scent-

sory

Creations
that i am super impressed with! We are transitioning to all natural healing products and i just love this!
19.
Fluffnflowers
scent in lavender rose of
sharon
seeds!! How cute and creative! I fell in love with her
etsy
shop too! Can't wait to plant these (and hopefully not kill them :*/ )
LOL
.
20. Honey Almond Soap from
Breezy Bug Boutique
.
DH's
favorite scent :P
21. Recycled Crayon from
Blue Goose Designs
that is the cutest one i have ever seen!! How perfect is it? I don't even want
DS
to color with it!
LOL
! She also stocks at
Serenity Tree Congo
.
22. And my favorite! A dryer sachet stuffed with
lavender
from
Refabulous
(cute name huh!). I love it and can't make up my mind of where to put it. I may just need to get a few more of these!
23 & 24. 2 cards from
dfmi

designs
that are SO unique and SO my style! These are a hit for all that have seen them and I need to stock up on a whole set of them! Too funny!
25. A really cute valentine's card that i am going to send to my mom! This sweet card was from
T and little S designs
. There was also a 20% coupon!
26. A $6.50 gift certificate from
Dagny's Promise
that i am using this weekend when i have time to shop! I love her stuff!
*not pictured:
27. Home school curriculum from
Earth*School
. I plan to
home school
DS
so i am holding on to this!
28. A knitting pattern for a cute hat from
Colorful Tea
! I do not know how to knit *yet* but will hold onto this for when i learn ; )
WHERE TO BUY:
http://hyenacart.com/TheSpottedBox/
or
http://www.thespottedbox.etsy.com/
WHEN TO BUY:
The Spotted Box's go on sale the 15
th
of every month!